Top Dog & Son
Rosie Russell is an eleven year old Jack Russell and lives with her "dad" Ruaridh Ormiston who is the owner at Highland Hotrse Fun. She was joined at the end of 2015 by her son Rusty Russell who is now 2 years old. They work at Highland Horse Fun where they mainly chase things and give football demonstrations. They also help the children learn to jump in the arena by being a pretend horse !! They love cosy nights in, but also like going out and being bad in the dark. Sometimes they run away from home but are never gone for very long ?
At one time Rosie was called "the fastest dog in Scotland" (According to The Daily Star and some other tabloids !!) and we still have the newspaper clippings.
Pastimes: Chasing Rabbits and Running Around Fields
Interests: Tractors, Motorbikes, Dog Friends, Horses, Football, Chasing Things
Sports: Terrier Racing, Carriage Driving, Motorbikes
Scared of: Big Scarey Things
Happiest when: Sleeping on my dads bed when he is not looking !!
Favourite food: Must be human food but I also like some dog food like Butchers & Bakers too
Loves: I love giving kisses, They love all the other dogs that come to the Riding Centre for Dog Agility when it is running.
Read More about Rosie in these Newspaper Articles below:
Rocket Rosie is a pocket-sized power pooch
Fast Rosie kisses and tells on Bebo
Rosie Russell has her own Facebook Page
Rosie Russell also has a Bebo Page too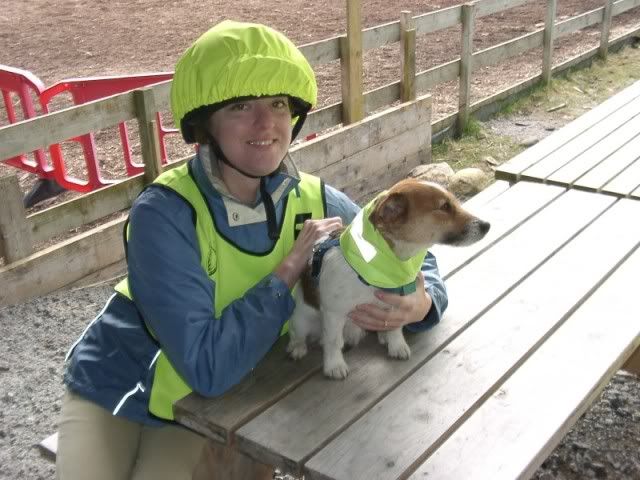 Rosie is a keen Road Safety Campaigner and is seen here with Tonya in Fluorescent Gear helping with BHS Riding and Road Safety Training at NRC. We run courses and training for Riding and Road Safety at Newtonmore.
Rosie and her Pink House from where she surveys daily Yard action !!